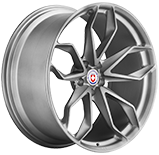 P201
Series P2
Forged Monoblok
The Series P2 are HRE's flagship Monoblok forged wheels. The goal in designing the Series P2 was to push our own design capabilities and reset the bar when it came to wheel design in a clean Monoblok platform, for cars like the Lamborghini Aventador SV and the Ferrari 488 GTB. The result is a series of wheels featuring an unprecedented level of complexity and refinement, combined in an elegant balance that epitomizes the HRE brand for the latest supercars, sports GTs, performance sedans and SUVs.
Finish Shown: Brushed Titanium
Available in 20", 21" and 22"
SIZE: 20", 21" and 22" *JWL対応品
FINISHES*
Click a swatch to see a bigger image.
*Custom Color
 お問合せ下さい
センターキャップ・・・・・・・
標準色・・・・・・・・・・・・
ボルト/ナット座面・・・・・・
TPMSマウント・・・・・・・・
レッド/ホワイト/ブルー(標準):ブラック/シルバー(選択可能)
HREスタンダードパウダーコート
グロス(艶有):シルバー/チャコール/ブラック/ホワイト/ブロンズ/ゴールド/レッド
サテン(艶無):シルバー/チャコール/ブラック/ホワイト/ブロンズ/ゴールド/レッド
テクスチャー(粗目):チャコール/ブラック
純正対応、60°テーパー選択可能
ブラケットの有無選択可能
HRE PERFORMANCE WHEELS Authorized Dealer : BOOM ENTERPRISES INC., *表示 価格は、全て税抜き価格です。